TFT1-13 triple display for standard signals
96 x 48 mm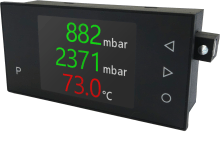 Item description
The panel meter TFT1-13 is a 4-digit digital indicator for the measurement of 3 voltage/current signals (galv. not isolated), with adjustable physically units. The device is equipped with 2 switching points which support different types of operating
modes. It can be controlled either by a threshold value with
Hysteresis or a window contact with alarm range. Here, the
configuration happens via 4 front keys or PM-TOOL, our optional PC-Software. Several selectable funtions like e.g. a zero point deceleration, the query of the min/max-value, a direct change of the threshold value in operating mode and additional measuring supporting points complete the concept of a modern measuring instrument.
Item description
Item description
Item description
Technical Data
Housing
96 x 48 mm
Display
TFT display
Digit height 9 mm
Multicolour backlight
Metering point & signal identification up to max. 15 characters
Range displayed
-1999 to 9999
Operation
front panel keyboard protection class IP65
Input
Voltage 0-10 VDC
Current 0/4-20 mA
Power supply
100-240 VAC 50/60 Hz / DC +/- 10%
230 VAC
24 VDC +/-10% galvanic isolated
Software properties

measuring value presentation of 3x -1999…9999 Digits
display panel 2,4″, 320×240 Pixel
selectable colour for measuring value and background (red, green, white, black, orange)
minimal installation depth: 25 mm without plug-in terminal, with transformer 42 mm
display of metering point and signal description
adjustable dimension character
min/max-value recording
9 adjustable supporting points
display flashing at threshold value exceedane/undercut
Tara-function
programming lock via access code
pluggable screw terminal
2 switching points (changer)

Downloads

Data sheet and price list




Manual