M2 Digital indicator with Profibus DP 96 x 48 mm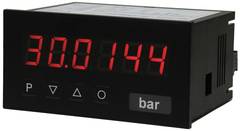 Item description
The M2-1BR6B.9000.570xD is triggered via Profibus and shows numerics and signs in a 6-digit 7-segment display. In this
progress the communication is controlled by a Busmaster. The device recognises automatically the used Baudrate (up to 12 Mbit/s) via a Busmaster and the only necessary information is the Profibus address that has to be used. The optionally available 5 operation types and the compact installation depth of
89 mm create a solid device concept.
Item description
Item description
Item description
Technical Data
Housing
96 x 48 mm
Display
6-digit
7-segment-display
14 mm digit height
Colour: red, green, orange or blue display
Range displayed
depends on operating mode
Operation
front panel keyboard protection class IP65
Analogue Output
–
Switch point
–
Interface
Profibus DP
Power supply
230 VAC
115 VAC
10-30 VDC galvanic isolated
Sensor supply
–
Software properties

adjustable device address of 1-126
5 operating types are supported
triggering via ACSII or direct triggering of the segments
brightness control of 25% to 100%
configuration check during start
programming interlock via access code

Downloads

Data sheet and price list




Manual