M1 Multifunction meter 96 x 48 mm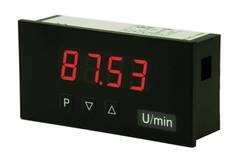 Item description
The M1-1UR4B.000X.X70xD is a 4-digit LED meter for the direct connection of different sensors. Such as voltage, current, Pt100, Pt1000, thermocouple or frequency. Furthermore, it can also be used to record speed signals or as a counter and offers some pulse inputs (TTL, HTL/PNP, NPN, Namur). The configuration is carried out using 3 front buttons or using PM-TOOL, our optional PC software.
PU5 Multifunction meter 96 x 48 mm
Item description
The PU5.000X.1W70 is a 5-digit meter for direct connection of different sensors. The configuration takes place via 4 front keys or the optional PC software PM-TOOL. To monitor limit values, up to 4 changeover relays, a transmitter supply, the interfaces RS232/RS485 for data transfers from/to the device and analog outputs 0-10 VDC, 4-20 mA or 0-20 mA are optionally available for further evaluation. A HOLD/TARA function via keyboard, many selectable software functions and a 24-bit resolution characterize a proven device for industrial use.
TFT1-11 Multifunction measuring instrument
96 x 48 mm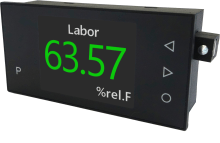 Item description
With the digital indicator TFT1-11 various sensors can be
operated and corresponding physical values can be displayed.
If temperatures need to be measured via Pt100, Pt1000 or Thermocouple, the temperature is displayed in °C or °F (as selected before). For measuring inputs like e.g. current/voltage, frequency or counter, the scaling and the presentation can be freely selected within the display range of -1999…9999. This device
comes with 2 switching points, which support different kind of operating modes.
Item description
Technical Data
Housing
96 x 48 mm
Display
4-digit
14 mm digit height
Colour: red, green, orange or blue display
Range displayed
-1999 to 9999
Operation
front panel keyboard protection class IP65
Input
Voltage 0-10 VDC
Current 0/4-20 mA
Pt100 2-/3-wire
Pt1000 2-wire
Thermocouple type L, J, K, B, S, N, E, R, T
Frequency
Rotation speed
Counter
Pulse input: TTL, HTL/PNP, NPN, Namur
Analogue Output
–
Switch point
–
Interface
–
Power supply
230 VAC
100-240 VAC 50/60 Hz / DC +/- 10%
24 VDC +/-10% galvanic isolated
Sensor supply
–
Software properties

min/max-value recording
5 adjustable supporting points
display flashing at threshold value exceedance/undercut
Tara function
programming interlock via access code

Downloads

Data sheet and price list




Manual